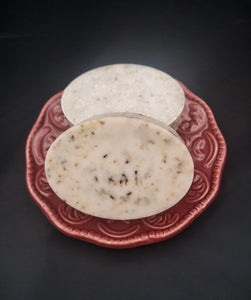 Lavender Luxury Goat Milk Soap
A best seller...nothing like the soothing scent of Lavender to make all of your troubles melt away. This bar is made with farm fresh goats milk, lavender flowers and lavender essential oil blended with luxerious Macadamia Nut and Coconut oils.  Natural lavender pigment for color.
Lavender is arguably the best essential oil when it comes to healing skin conditions. With its anti-inflammatory, antifungal, antimicrobial and detoxifying benefits, lavender essential oil can help reduce redness, soothe and calm the skin and rapidly heal minor cuts and scrapes, as well as any rashes. It also has the ability to lessen acne, help even skin tone, and reduce wrinkles . Last but not least, that wonderful aroma useful for treating anxiety, insomnia, depression, and restlessness.
Lavender flowers added for exfoliation a boost of increased lavender benefits.
All natural and dye free.
100% Therapuetic Grade Essential Oils
Made in USA
Nice sized 4.5 oz. bar
Clear plastic wrapper
All bars contain lard