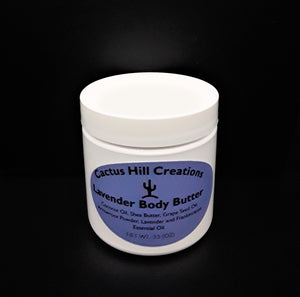 Lavender Body Butter
Indulge your skin with all the goodness of this homemade Lavender Body Butter. Made with Coconut Oil, Shea Butter, Grape Seed Oil, Arrowroot Powder and Lavender and Frankincense Essential Oils. All natural and leaves your skin feeling silky soft. Your skin will thank you!
This is a butter and not a lotion so a little goes a long way...if it is not absorbing to your liking you are using too much. Use after bathing and rejuvenate your skin! Great for cuticles and dry elbows and heels too!
Paraben and preservative free
4 oz. jar